Bei uns werden fast alle Ihre Wünsche zu unschlagbar günstigen Preisen in einem absolut gepflegten Ambiente wahr !
Wir bieten  Getränke ab nur 4,-€. <>Reine Vermietung der Love Rooms 30 Min. 35,-€ <> 1 Std 60,-€ <> 1 Std. Business Suite mit Jacuzzi 80,-€.  <>Saunabenutzung ab 10,-€
Ladies Den Preis für die Lady muss mit der Lady vereinbart werden. Normalerweise nehmen die Ladies den gleichen Geldbetrag wie wir bekommen !
Gesamt Richtpreis 30 Min. 70,-€ <> Die Std 120 € <> Mit Whirlpool 160,-€
-ALLE DAMEN, DIE UNS BESUCHEN, SIND AUCH GÄSTE UND ARBEITEN AUF EIGENE RECHNUNG!
Haus-Hotel-Service in Hannover ab 200,-€.Muss mit den einzelnen Ladies abgesprochen werden 
Drinks und die Miete an uns könnnen Sie so ziemlich mit allen gängigen EC und Creditkarten zahlen
Service der Ladies nur in BAR direkt an die Lady 
English
Casanova xl you will find DRINKS-FUN AND MORE
Let all your dreams come true ! At unbeatable prices in an absolut hight class and luxury ambience !
PRICES DRINKS: Start with only 4,-€ . During the largest fairs 10,-€. PRICES LOVE ROOMS : Pur rental of the confortabel LOVE ROOMS in the separat upper floor start with 35 ,-€.  All rooms has aircon, own toilet and shower room . Business Suite with Jacuzzi too !
PRICES SAUNA: Start with 10,-€ . During the largest fairs 20,-€. -Prices Love Room: We charge only the rental of the Love Rooms. Not the service from the ladies ! 30 Minutes Standart Suite 35,-€ <> 1 hour Standart Suie 60,-€ <> 1 hour Business Suite with Jacuzzi 80,-€
Ladies Service :  They charge from You direct mostly the same price for her service we charge for the rooms !
Because: All Ladies visit us are also guest and work for her own bill ! Total target price: 30 min. 70,-€ <> 1 hour 120,-€ <> 1 hour with jacuzzi 160,-€. House-Hotel-Service in Hannoverstart 200,€. You have to speak direkt with the Lady you like !
Drinks and the room rentals you can pay with nearly all EC and Credit cards. Service from the ladies direct to the lady only in cash
.
Alle selbständigen Ladies mit gültigen Papieren ,
die aus finanziellen Gründen Herrnbekanntschaft suchen , sind bei uns an der richtigen Adresse
Wohnmöglichkeit ist vorhanden ! Top Konditionen !
Einfach von Mo - Sa von 20.00 - 06.oo Uhr bei uns vorbeikommen
Oder . T. +49 511 897 11 900
oder per Whats App + 49 1573 069 40 33
All self-employed ladies with valid papers,
who are looking for mr. acquaintance for financial reasons, are with us at the right address
Housing is available ! Top conditions !
Just come in to the Club Mon - Sat from 20.00 - 06.oo am
Or call from 20.oo - 06.00  +49 511 897 11 900
Or via Whats App + 49 1573 069 40 33
HAPPY DAY 1 IM CASANOVA XL
Schnell info – Fast Information
Zahlung / Payment
Casanova XL akzeptiert Zahlungen mit allen EC und Kreditkarten. Außer Amex. Gäste die nur bar zahlen wollen: der nächste Geldautomat ist im Parkhaus Lister Tor. Nur 80 m von uns.
We accept for payments all EC and credit cards. Except AMEX. Guests like to pay only in cash and has no cash: the next ATM is in P-House Lister Tor. Only 80m from our location. Our staffs can show you the way.
Hausordnung / House rules
Hausordnung
Sollte es bei einem Date zu sexuellen Handlungen kommen so ist das nur eine Angelegenheit zwischen den einzelnen Partnern - Keine von den "Frauen" (weibliche Gäste, ist Angestellte vom Casanova XL. Nur die Tresenkraft ist Angestellte vom Casanova XL und hat Hausrecht. Alle Gäste, die diese Regelung nicht akzeptieren, dürfen unsren Club nicht betreten oder haben ihn umgehend zu verlassen.
House rules
Should it come on a date to sexual acts, so that's a thing between the individual partners. None of the "Women" are employee of Casanova XL. Only the counter force is employee and has domestic authority. People who do not accept this mandatory house rules, not allowed to enter our Club
Aktuelle Angebote vom Casanova XL
Drinks: Tief - Preis - Aktion
Auf Anfrage: z. B. Die gr. Fl. Wodka 0,7 l mit 1 l Softdrink
Aktions-Tage! Bitte per Telefon erfragen 0511-897 11 900 oder unter Events schauen
Drinks: Low - Price - Offer
On request: e.g. One Bottle Wodka 0,7 l with 1 l Softdrink
Offer-Days! Ask on a phone 0511-897 11 900 or under events
Von / From Kaffee / Coffee - Champagner
ab 4,-€ | start with 4,-€
WAY TO US AND NEXT ATM (Geldautomat)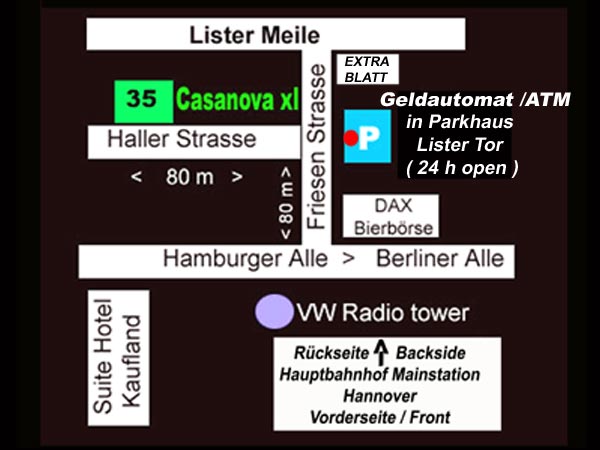 Anfahrt
Nachtclub Hannover Casanova XL
Hallerstr. 35
30161 Hannover
Haupteingang zum Nachtclub Hannover Casanova xl
Linke Seite - Hallerstrasse 35.
Direkt in den Bar Raum Salon und Sauna.
English-
Entrace:
Left Side
Hallerstr. 35
Entrance door in the Nachtclub Hannover Casanova xl
direct to the bar room  Saloon and sauna.
Eingang Rechte Seite Hallerstr. 35 A
EINGANG ZU DEN RÄUMEN FÜR HEISSE WELLNESS MASSAGEN  
Direkt in die 1. Etage.
Hier geniessen Sie volle Anonymität.
Der Eingang liegt rechts vom Haupteingang  zum Club.
Links ist unser Haupteingang zu unserer Bar Räumen