Casanova xl  Hallerstr. 35
Sie sind auf unserer Seite
"Unsere weiblichen Gäste "
Alle Ladies , die ihre Dienste nur gegen Entgelt anbieten,
sind selbständige Hostessen und arbeiten auf eigene Rechnung!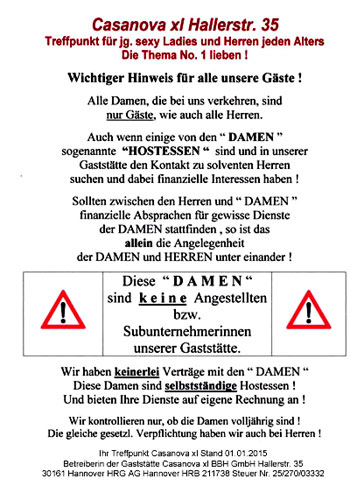 Alle Damen, die bei uns verkehren,
sind genauso Gäste wie alle Herren,
auch wenn sie ihre Dienste nur gegen Entgelt anbieten
Ein Date und alle sexuellen Vereinbarungen
sowie mögliche finanzielle Absprachen
sind Angelegenheiten der Gäste untereinander.
Aus rechtlichen Gründen dürfen wir für
Prostitution oder Prostituierte keine Werbung machen.
Weder Anwesenheit, Daten , Fotos, Service noch Preise!
Casanova xl  Hallerstr. 35
Your are on our  page
"Our female guests "
All Ladies , her services only against remuneration offer,
are independent hostesses and work at own account!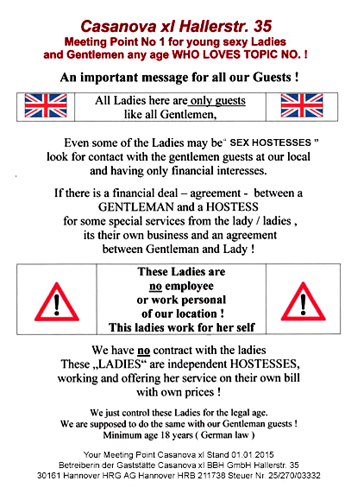 All ladies who visit our Club are guests same all Gentlemen,
even if they offer their services only for cash
A date and all the sexual Arrangements
as well as possible financial Arrangements
are matters of guests among themselves.
For legal reasons we can not make any advertising
for prostitution or prostitutes.
Neither who are presence, data, photos, service prices yet!
Preise / Vereinbarungen
für eventuelle Dienstleistungen der Damen
sprechen Sie ausschließlich
mit den Damen (unsere weiblichen Gäste) ab.
Sie sind keine Angestellten des Clubs
Sie zahlen an uns nur die Benutzung der Suite
Sexuelle Dienstleistung können nicht über unseren
Kreditautomaten mit EC/ Kreditkarte bezahlt werden!
Der nächst Geldautomat ist im Parkhaus Lister Tor
Prices / Arrangements
For any services from the Ladies
talk exclusively with the ladies
(our female guests).
They are not employees of the club
You pay only the use of the suite to us
Sexual services from the ladies can not be paid
by EC or creditcard on our credit maschine
The next ATM you will find in P-House Lister Tor
Hinweis
Einige unsere weiblichen Gäste,
die unseren Club besuchen um einen heissen
Date mit einem Gentlemen zu haben
kommen nur gelegentlich. Andere des Öfteren! Alle Ladies, die ihre Dienste nur gegen Entgelt anbieten,
sind selbständige Hostessen und arbeiten auf eigene Rechnung!
Aufgrund von Bildrechten
dürfen wir keine Fotos zeigen
Alle Damen sind Gäste wie die Herren.
und keine Angestellten vom Casanova xl
Note
Some our female guests who frequently visit
our Club for a hot date with a gentlemen!
Some ladies come often, the other only occasionally!
Because of image / copy right
we can not show photos
All ladies are guests like the gentlemen
and no employees from Casanova xl
Bezahlung
Im Casanova xl
wird getrennt bezahlt!
Getränke und Nutzung der Räumlichkeiten
ans Casanova xl eventuellen Service der selbständigen
Ladies direkt an die Ladies Die Nutzung der Suite ans Casanova.
Dafür bekommen Sie von uns einen Rechnungsbeleg
Die genannten Preise sind Bar Preise inklusiv der gültigen MwSt
Den Service der Damen ausschließlich an die Damen
Sofern Sie darüber einen Rechnungsbeleg benötigen,
wenden Sie sich bitte an die jeweilige selbständige Dame
Payment
In Casanova xl
is paid separately!
Drinks and use of the suites to the Casanova xl
Service of self Ladies directly to the Ladies
Use of the suite to the Casanova.
For that you get from us an invoice document
The prices listed are bar prices include the applicable VAT
Rates women speak from the ladies!
The service of women exclusively to the ladies
If you need it a printed invoice,
please contact to the respective independent lady