Preis Garantie
Hannovers einziger Club mit der Tief-Preis-Garantie!
Drinks ab 4.-€. <> Sauna ab 15,-€ <> Rooms ab 30,-€ 
Price Guarantee
Hannover`s Night Club with low price guarantee!
Drinks starts at 4.-€.
Sauna start at 15,-€ <> Rooms start at 30,-€ 
Hinweise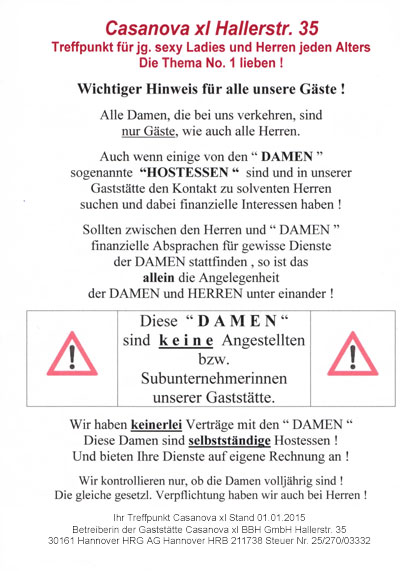 Alle Damen, die bei uns verkehren, sind genauso Gäste wie alle Herren, auch wenn einige ihre Dienste nur gegen Entgelt anbieten. Ein Date und alle sexuellen Vereinbarungen sowie mögliche finanzielle Absprachen sind Angelegenheiten der Gäste untereinander.
Alle diese Damen sind selbstständige Unternehmerinnen . Aus rechtlichen Gründen, dürfen wir für Prostitution oder Prostituierte keine Werbung machen. Weder Anwesenheit, Daten , Fotos, Service noch Preise!
Note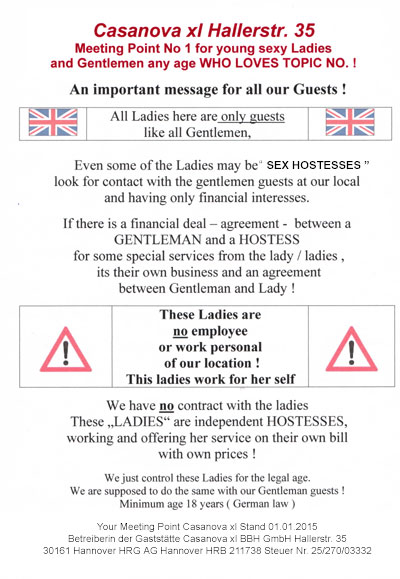 All ladies who visit our club are guests same all gentlemen , even if some of they offer their services only for cash. A date and all the sexual arrangements as well as possible financial arrangements are matters of guests among themselves. For legal reasons we can not make any advertising for prostitution or prostitutes. Neither who are presence, data, photos, service prices yet!
Jetzt: Aktionspreise Rotstift
Diese Preise sind nicht bei grossen Messen gültig!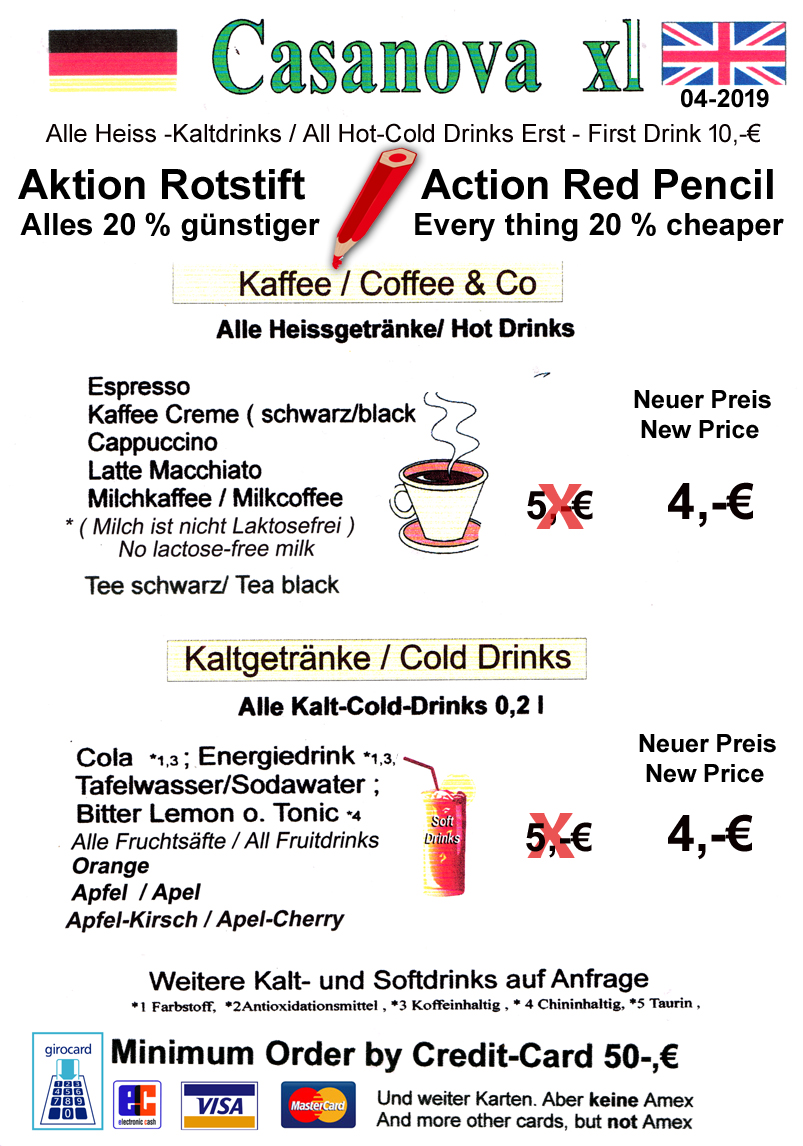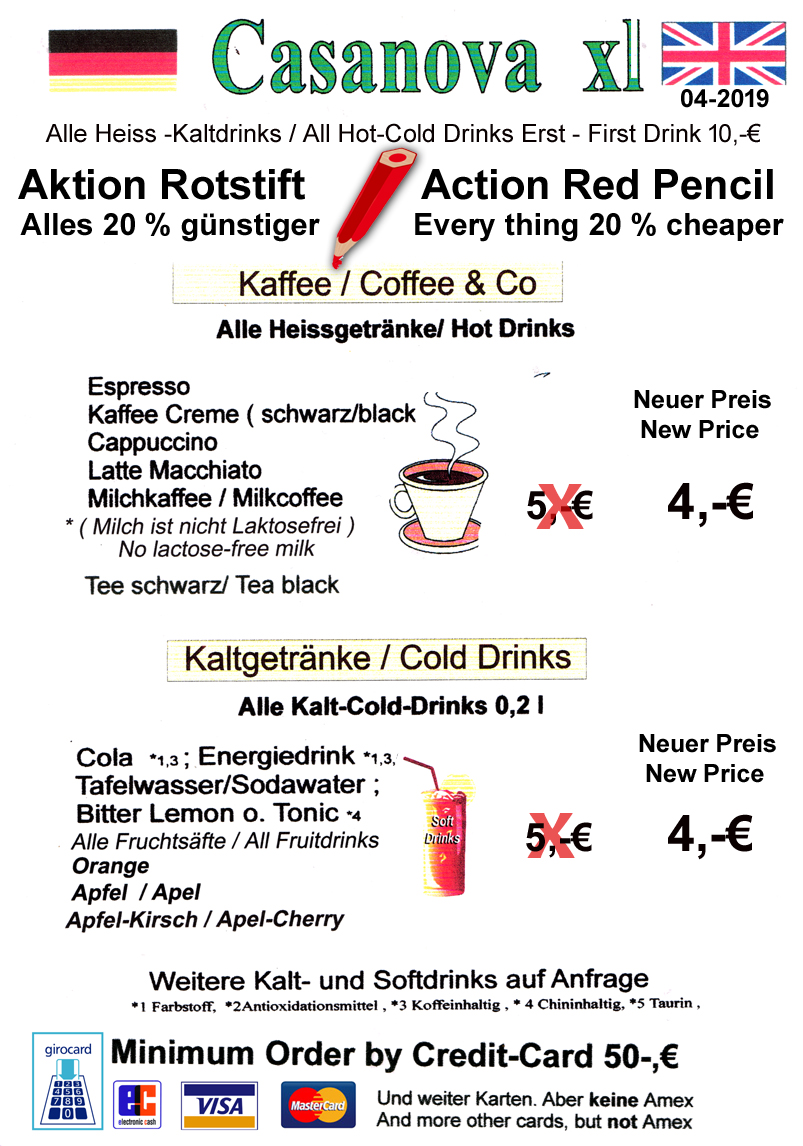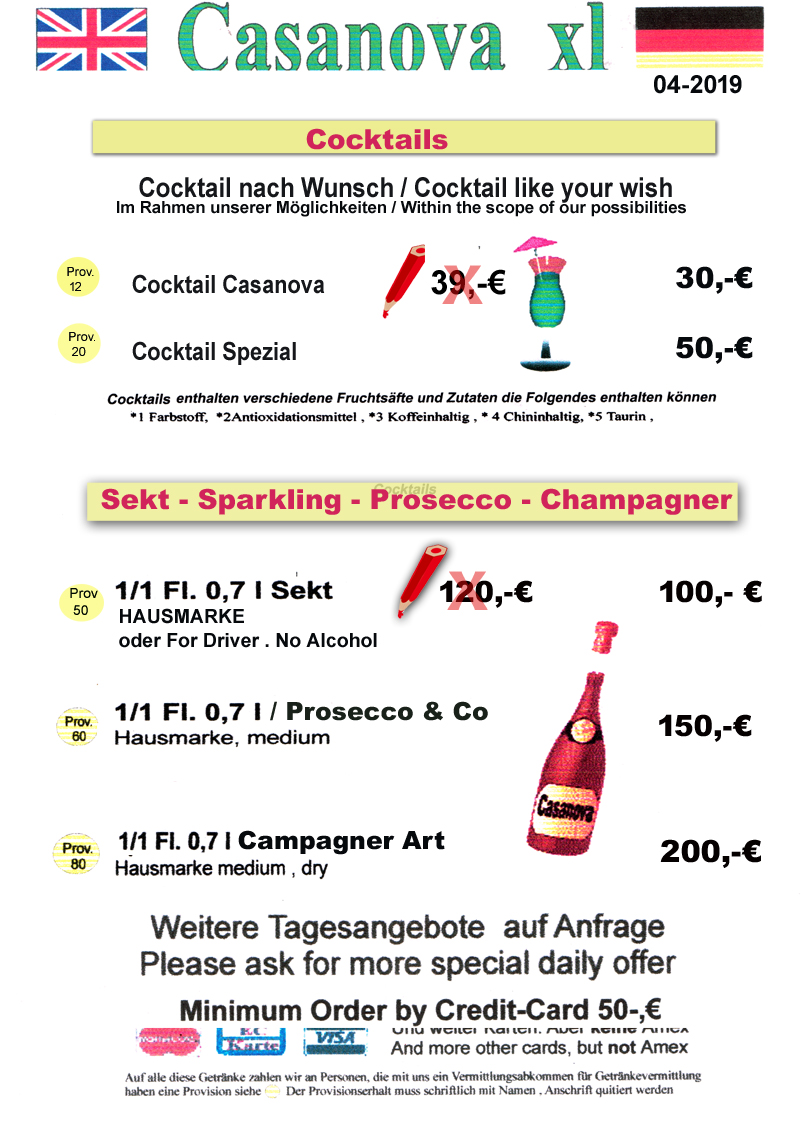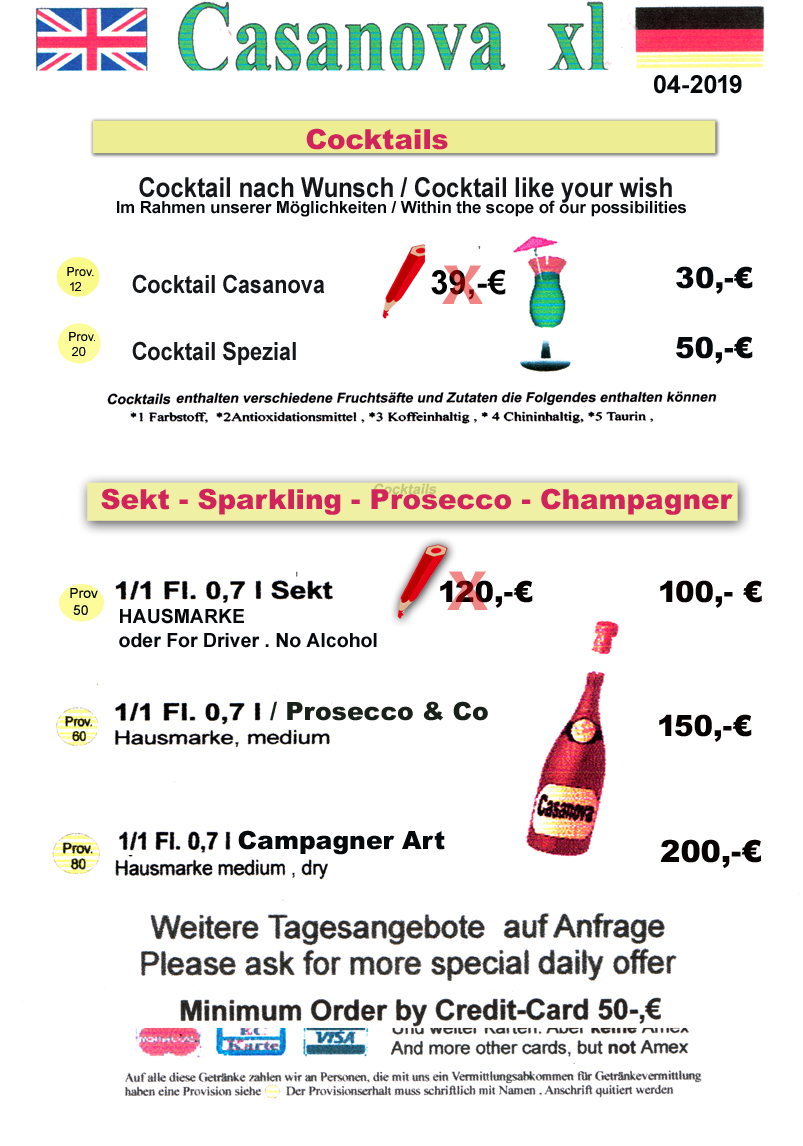 Now: Red Pencil Prices
These prices are not valid during major trade fairs!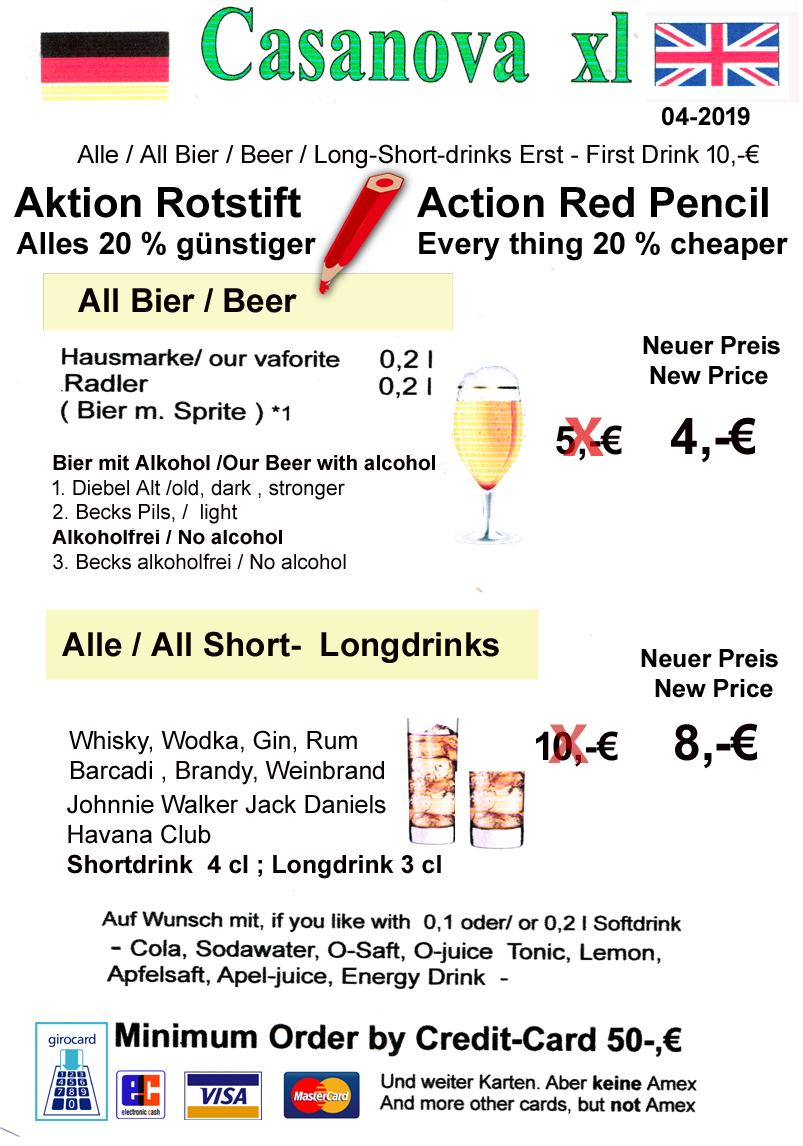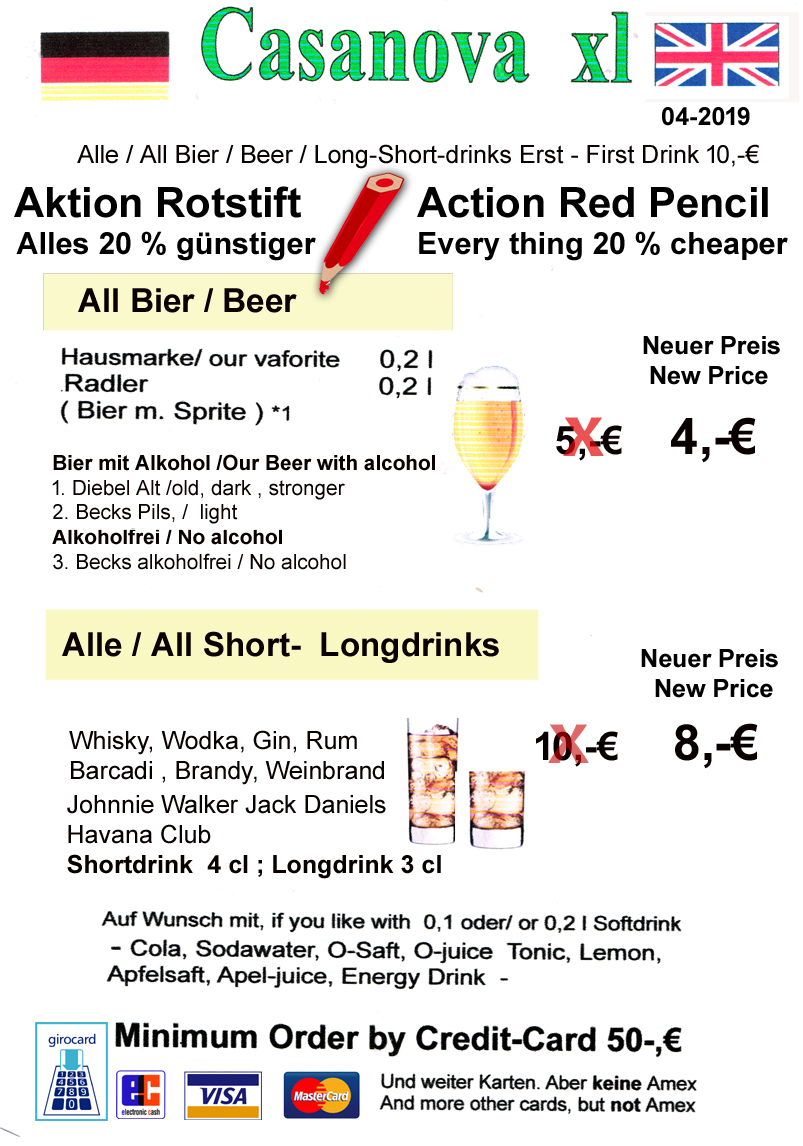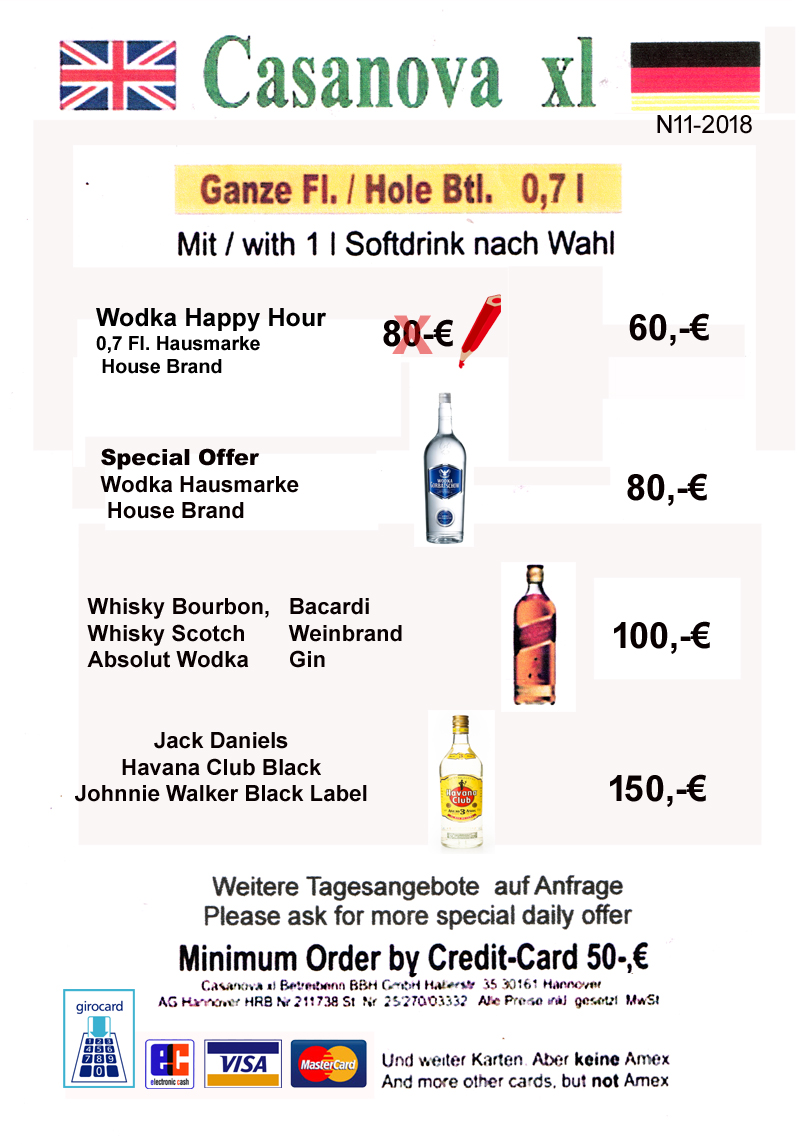 Sauna ab 15,-€
Rooms ab 30,-€
Sauna start with 15,-€
Rooms start with 30,-€
Getränkepreise
Unsere Standardpreise
Nicht zu Messezeiten und Veranstaltungen!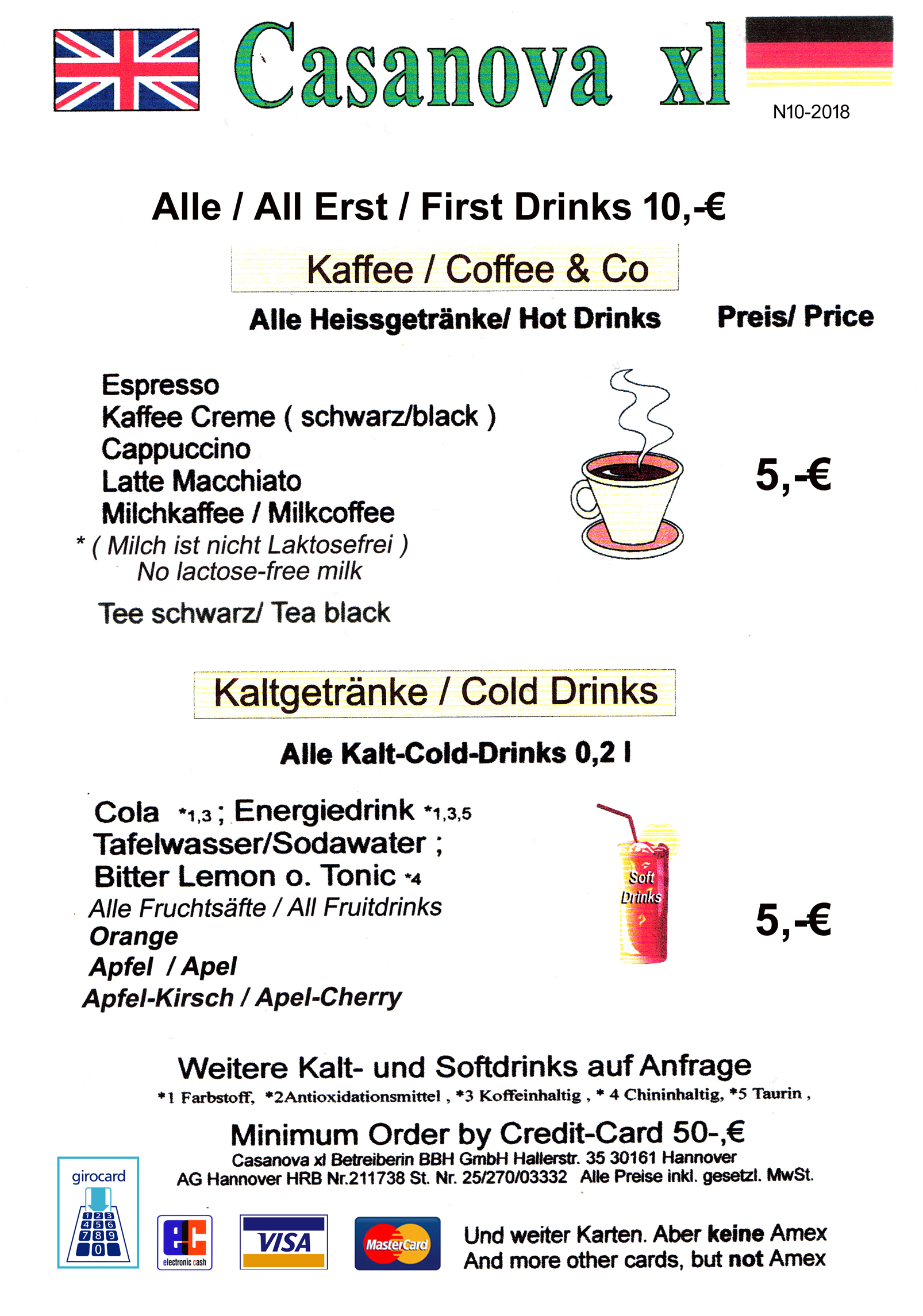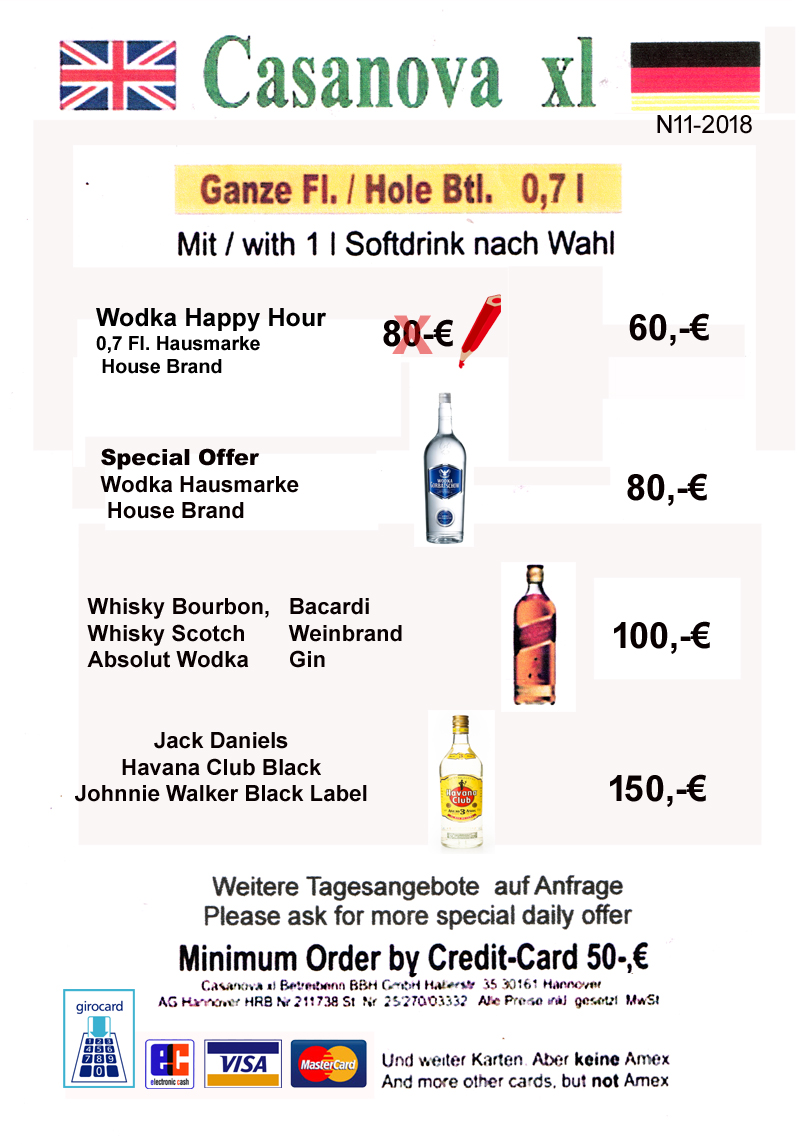 Deutsch:
An einigen Tagen haben wir heiße Angebotsaktionen.
Diese stehen oben auf unserer Startseite.
Interessant für alle Frauen
Für die  Cocktails, Sekte und Champagner zahlen
wir  eine Vermittlungsprovision,
wenn die Vermittlerin vorab der Bestellung
eine entsprechende Vereinbarung mit uns trifft.
Der Erhalt der Provision muss schriftlich mit Namen
und Anschrift bestätigt werden.
Den erhaltenen Betrag muss die Vermittlerin
selber versteuern!
Prices for Drinks
Our standard prices
But not during major trade fairs and events!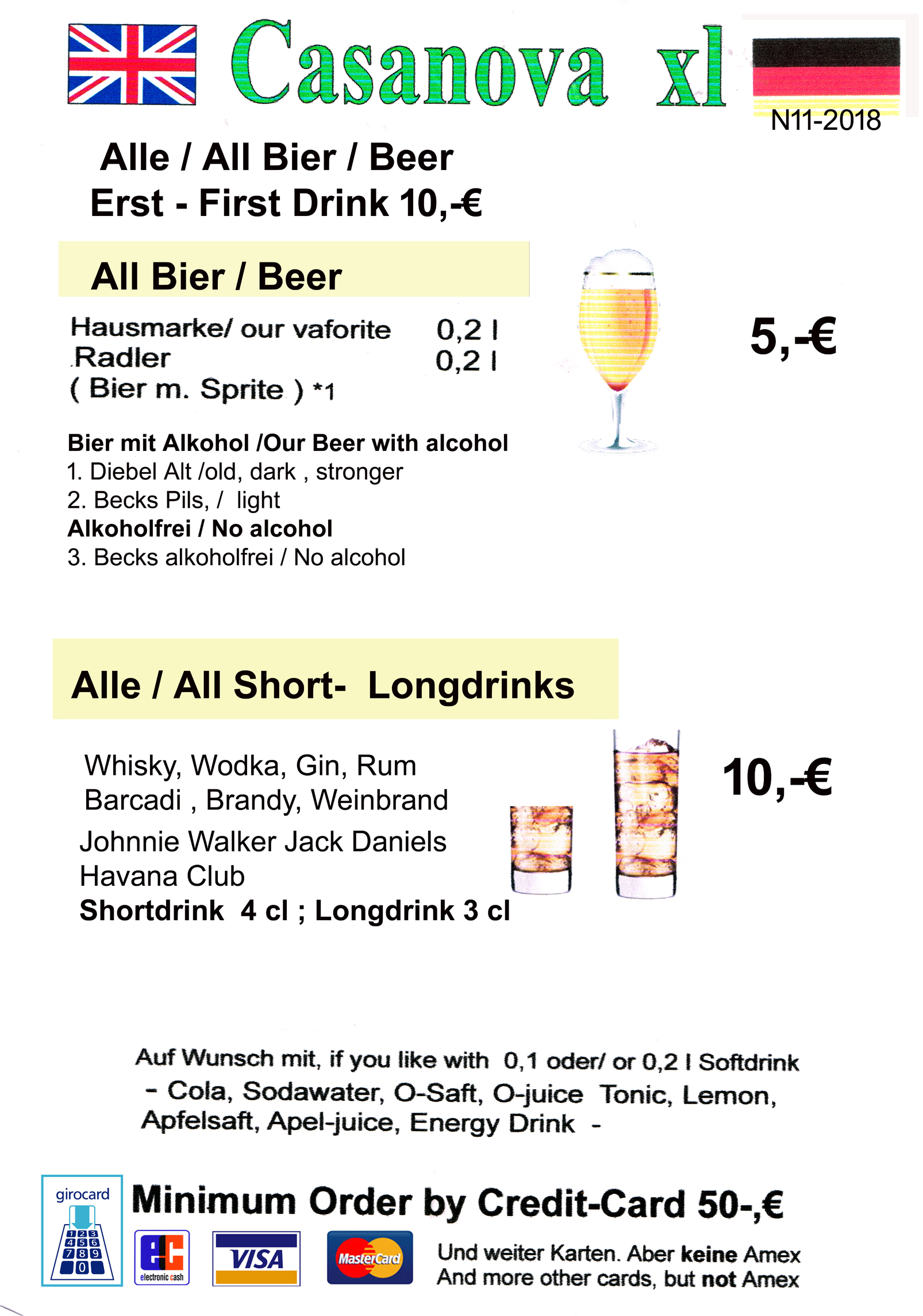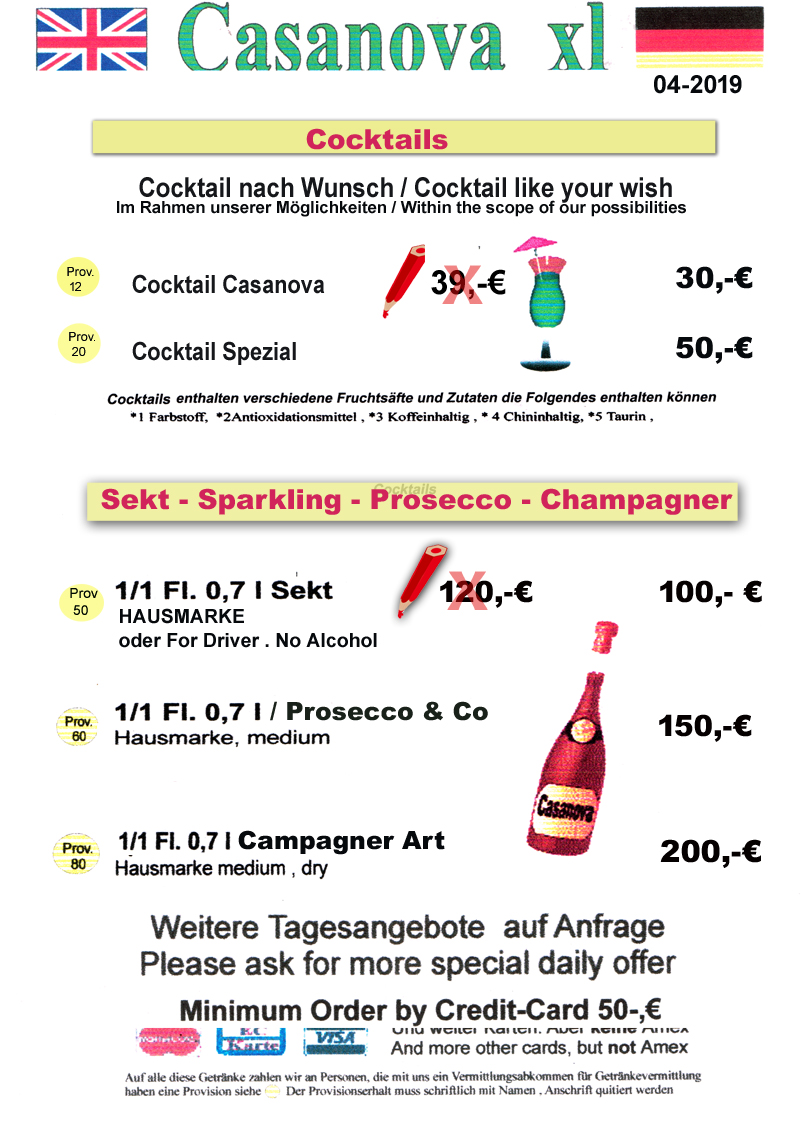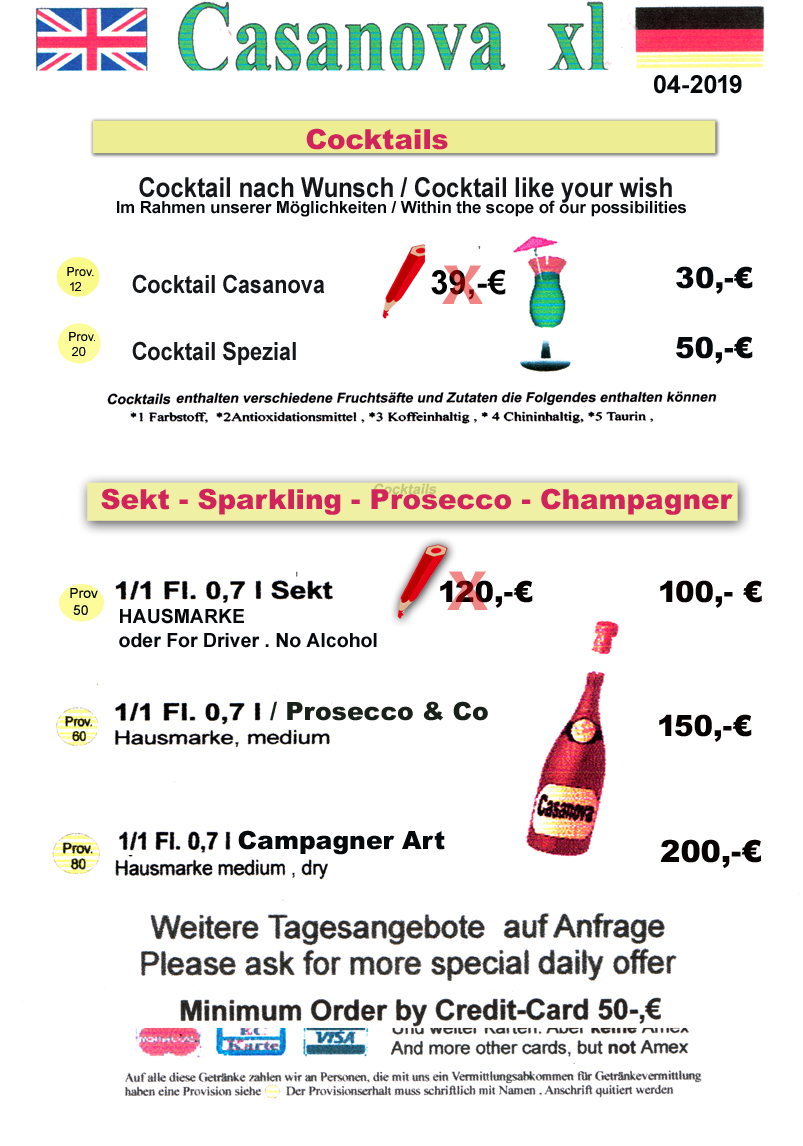 English:
Some days we have special offer.
All special offers you will find on our Mainpage.
Interesting for all women

For cocktails, sparkling wines and champagner,
we pay a commission,
if the mediator in advance of ordering
an agreement to meet with us.
The receipt of the commission must be confirmed
with name and address.
The amount received will be taxable himself
the mediator!
Dauer Niedrigpreis Angebot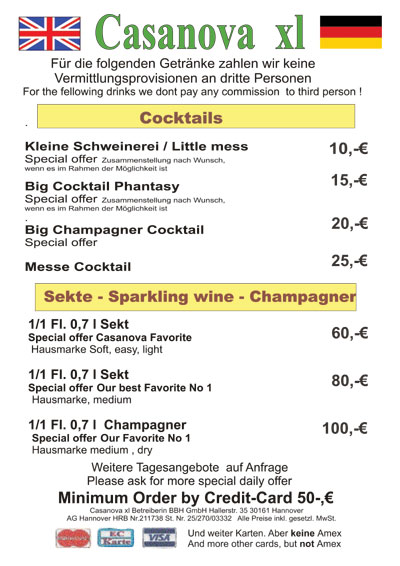 Permanent low price offer
Für sparsame Damen und Herren Für diese Getränke zahlen wir keine Vermittlungsprovision an Dritte!


For Ladies and gentlemen like to keep money For these drinks We do not pay commission to third persons! Not during the majory fairs
Preise bei großen Messen und großen Events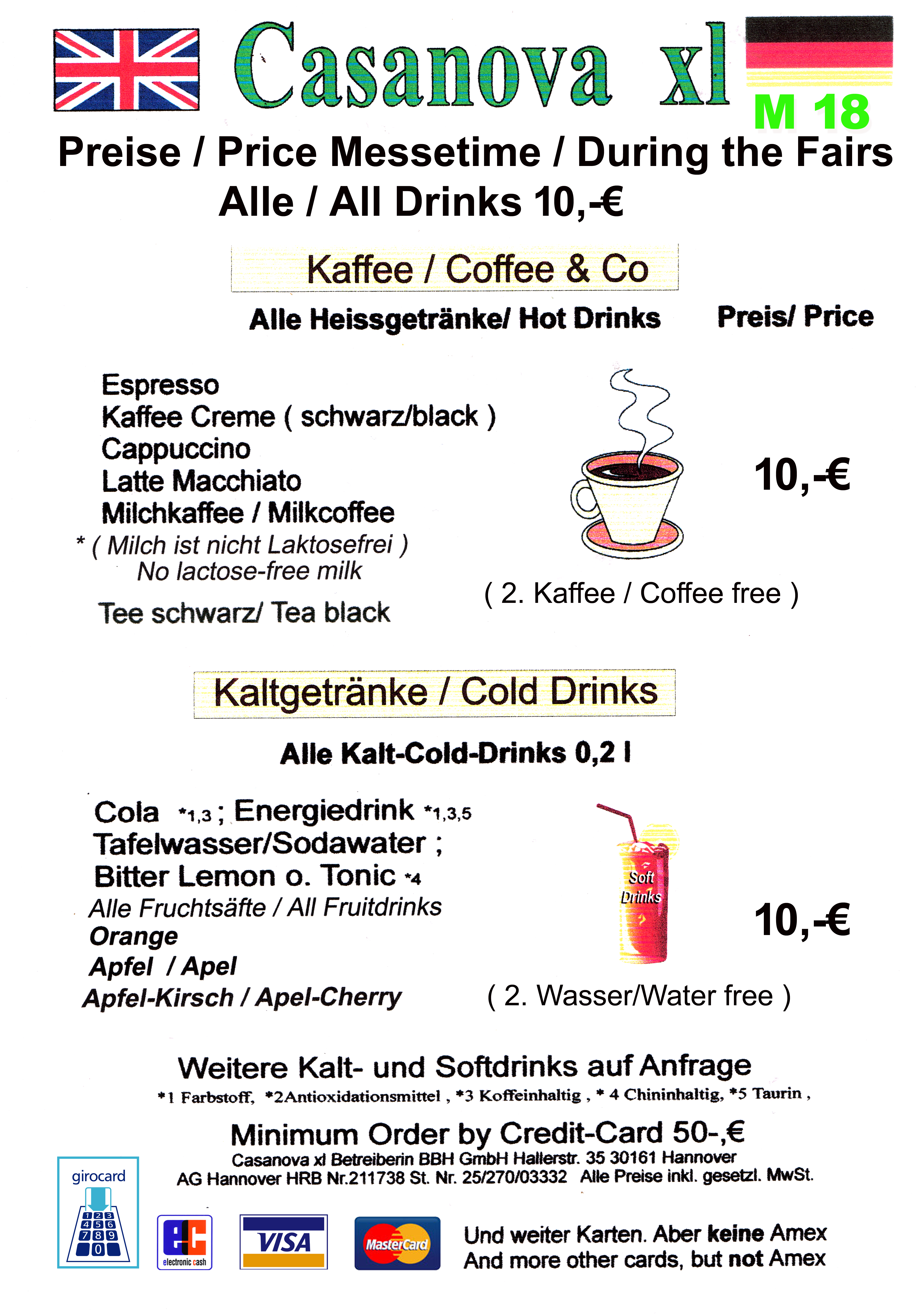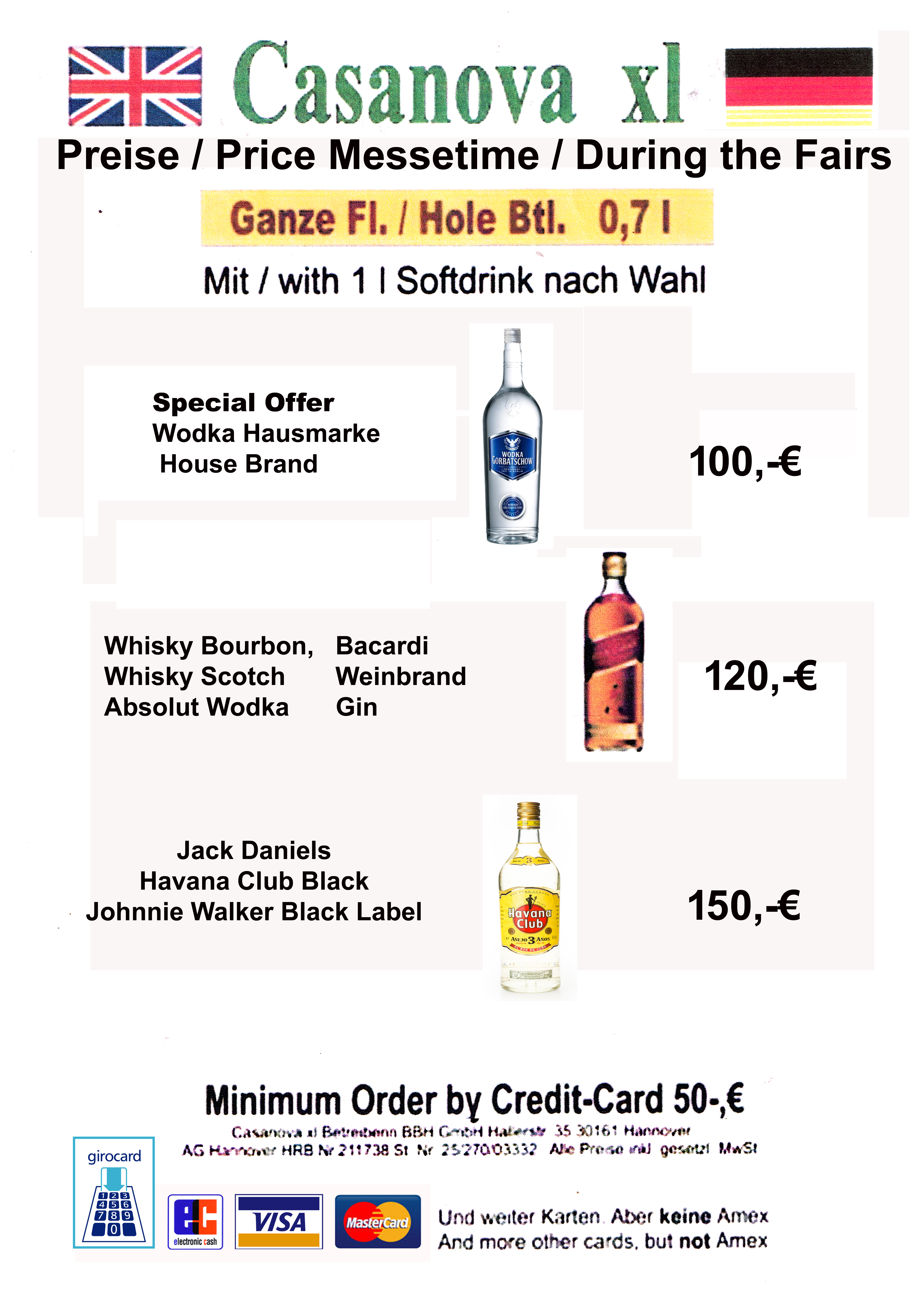 Prices during the major trade fairs and big events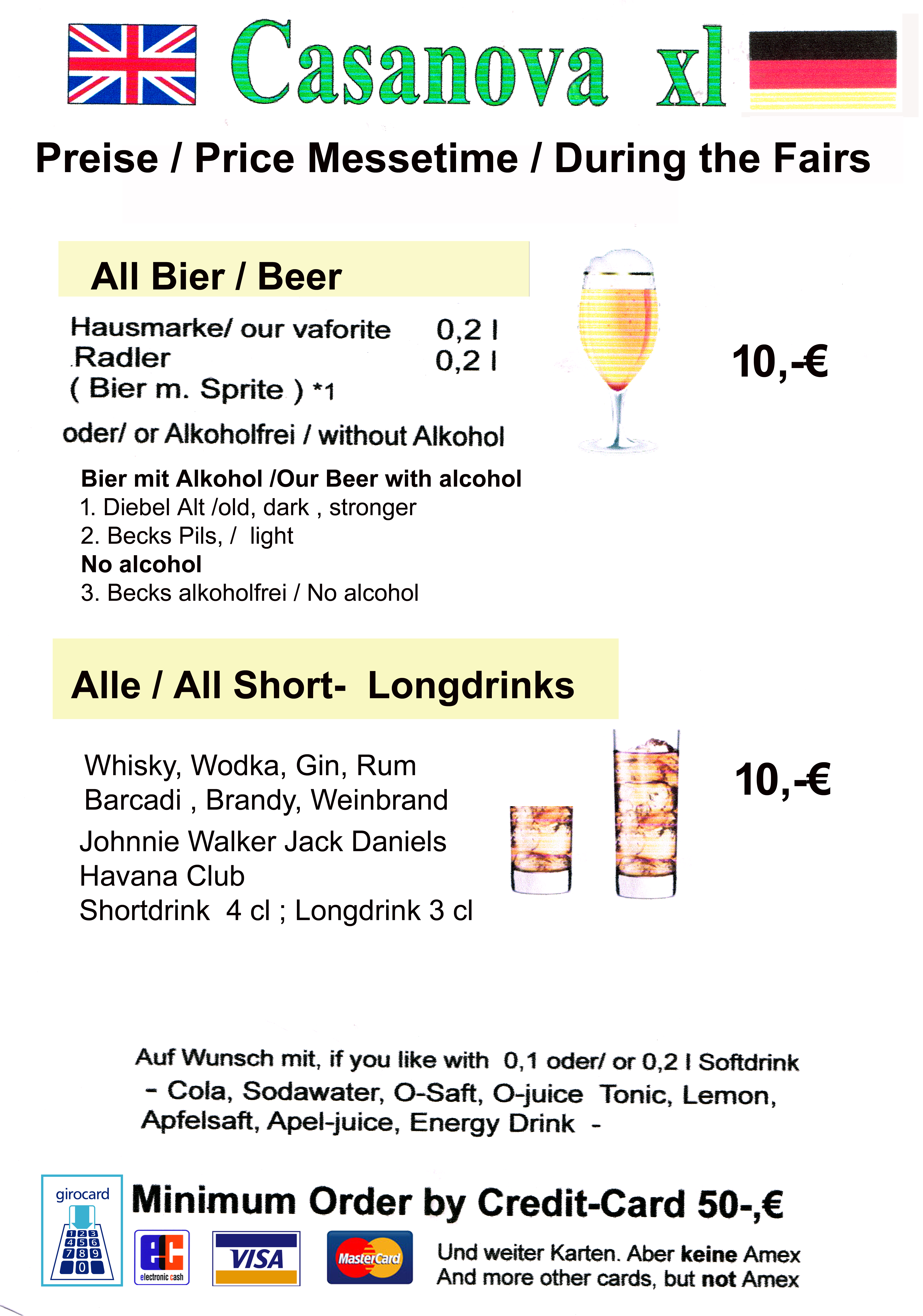 Für unserer Stammgäste, die über das ganze Jahr kommen, haben wir auch während der grossen Messen und Veranstaltungen Sonderpreise ! Bitte einfach am Tresen melden und anfragen !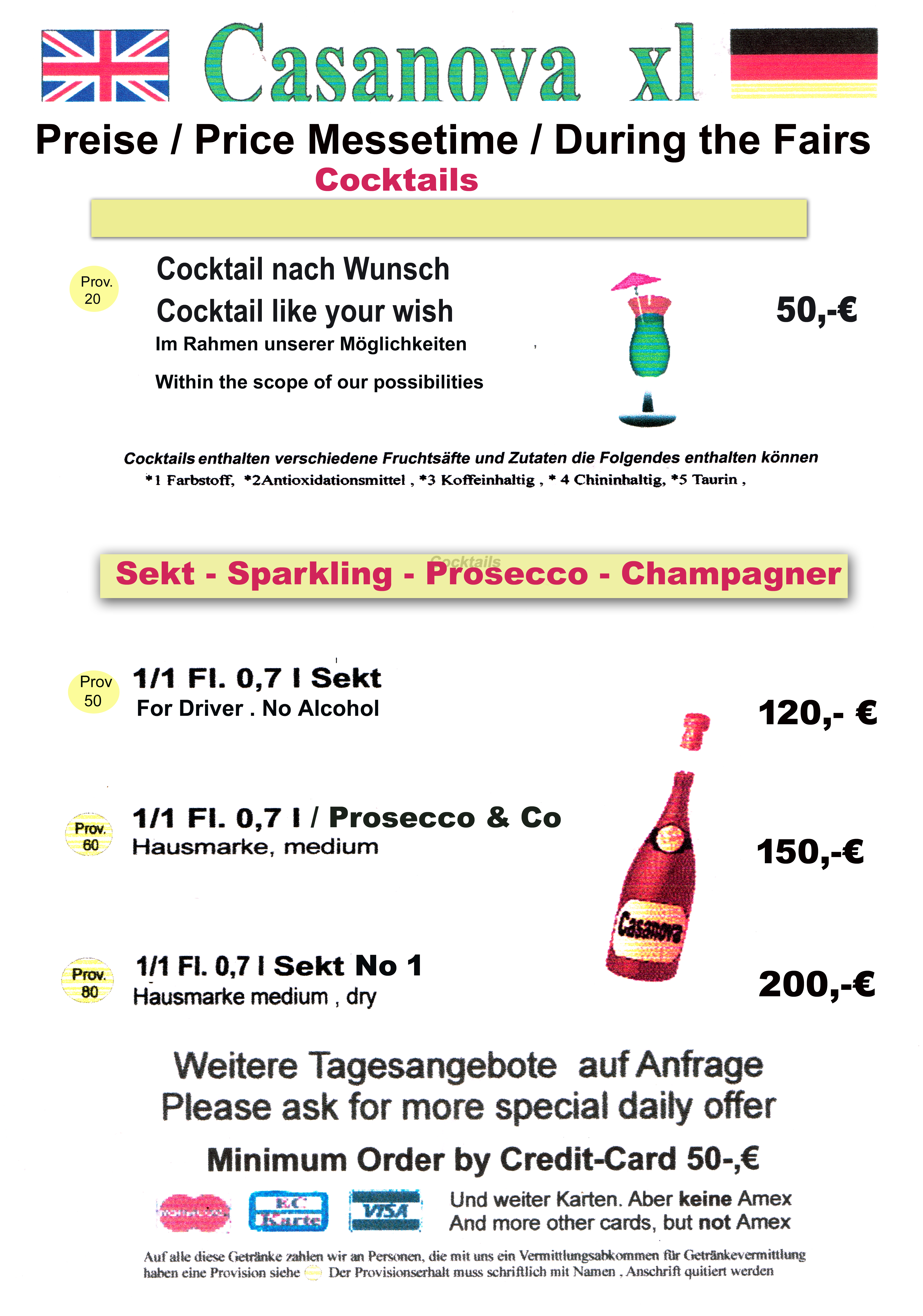 Wichtiger Hinweis
Wichtiger Hinweis für alle Gäste
...Achtung...
Unser Gästebuch steht allen Gästen zur Verfügung.
Sowohl den Damen, die unseren Club besuchen als auch den Herren
Für gegenseitige Erfahrungsaustausche , Berichte , Anregungen.
Oder Vereinbarung für Treffen schreiben Sie in unser Gästebuch
Zu den Preisen der Dienste, der bei uns verkehrenden "Damen" können wir nichts sagen.
Viele Gäste haben bereits ihre Erfahrungen in unser Gästebuch geschrieben!
Schauen Sie in das Gästebuch.
Important Notice
Important message for all customer
...Attention...
Our guestbook is available for all customers, women they visit our club as well as men. For mutual exchange of experiences, reports, proposal or agreements for meetings write in our guestbook. About the prices of services, from the " ladies " visite our club we can not say anything.
Many guests have already written their experiences in our guestbook! Also the ladies, visit our club . Perhaps this will help you 100 % to understand the system in our club !
Please visit our guestbook.