Drinks Fun and More  zu Tiefpreisen !
" NICHTS  IST UNMÖGLICH ! "
Auf Wunsch bieten wir für Saunafans auch eine schnuckelige Sauna zum Relaxen
Gebühr einschliessliche aller notwenigen Utensilien, wie Bademantel, Saunalatschen,
Schliessfach für nur 10,-€ Gebühr . Während der grossen Messen 20,-€
....Vergiß mal Deinen Alltag...lass Deine Träume wahr werden und gönn Dir mal nur das Beste .....! Ob nur auf ein paar Drinks, netter Gesellschaft mit einer der weiblichen Gäste ( Ladies )  , die für fast Alles offen sind oder nur mal zum Saunieren ! Im Casanova xl ist einfach "Alles" möglich !
Upon request we provide for sauna fans also a nice sauna to relax
Charge more inclusive of all essentials utensils, such as a bathrobe, slippers sauna, safe loker
for only 10, - € extra coast. During the major fairs 20, - €
Auskunft
Möchten Sie eine von den weiblichen Gästen ( Ladies ) sprechen, die bei uns als Gast sind ?  Dann rufen Sie bitte zu unseren Öffnungszeiten an. Tel. +49 511 897 11 900 . Sofern Sie den Namen nicht wissen lassen sich eine andere der weiblichen Gäste geben . Sie wird Ihnen sicherlich alle Auskünfte erteilen die Sie für einen heißen Date mit ihr oder eine ihrer Freundinnen wissen möchten.  Unser Tresenpersonal ist nicht berechtigt, Ihnen in der Angelegenheit irgendwelche Auskunft zu geben. Casanova xl ist ein Treffpunkt für Gentlemen und Ladies, die Thema No. 1 lieben. Mit und ohne finanziellen Interessen ! Alle Damen, die bei uns verkehren sind Gäste, wie die Herren ! Aus rechtlichen und steuerlichen Gründen dürfen wir keine Daten, Fotos usw. von den Ladies , ( weiblichen Gästen ) veröffentlichen. Casanova xl ist ein Treffpunkt für Gentlemen und Ladies, die Thema No. 1 lieben. Mit und ohne finanziellen Interessen !
Advice
Do you want to talk with one of the Ladies which are as our guest. Then please call during our business time  Tel.+ 49 (0) 511-897 11 900 and let to give one of the famila guest ( ladies ) . They can assist with any information, You need for a hot require data Or simply come to visit our club.  Even for  a drink for 4,-€ . Our staffs is not aloude to give you any information about the famila guest ( ladies ) For legal and Tax reasons we may no data, photos , etc. published by the "Ladies" ( famail guest ) ! Operate no advertising Neither for prostitution an for the independent prostitutes; wich visit our Club ! Casanova xl is a meeting place for gentlemen and ladies , the topic No. 1 love . With or without financial interests !
Viele Gäste haben Ihre Erfahrungen in unser Gästebuch geschrieben. Einfach mal schauen. Und bitte schreiben auch Sie Ihre Erfahrungen.
Many of our guests wrote down their experiences in our guest book already. Take a look. And please write down your own experiences too .
Zahlung / Payment
Wir akzeptieren für Zahlungen ab 50 ,-€ alle gängigen EC und Kreditkarten . Ausser Amex . Der Beleg von unserem Kreditkarten Automat ist anonym ohne unsere Adresse /Gäste die nur bar zahlen wollen. Der nächste Geldautomat ist im Parkhaus Lister Tor. Nur 80 m von uns. We accept for payments - minimum 50€ - nearly all standard EC and credit cards. But not AMEX. Receipt from our credit cards is anonym - without our adress. Guest like to pay only in cash and has no cash. The next ATM is in P-House Lister Tor. Only 80 m from our location. Our staffs can show you the way.
Informationen zu Zahlungsmethoden / Information to Payments
EC -,-Visa-, Master-, Diners Card and other. But no Amex
Nur für Getränkeumsatz und Mietzahlungen ab 50,-€ !
Barauszahlungen und Zahlungen für sexuelle Dienstleistungen der anwesenden weiblichen Gäste ist nicht möglich. Diese Damen sind selbstständige Unternehmerinnen und kassieren selber in bar
Sollten Sie Bargeld benötigen , der nächste Geldautomat im P-Haus Lister Tor Nur 80 m vom Casanova xl Unser Personal zeigt Ihnen gern den Weg
Only for drinks sales and rent rooms . Minimum amount 50 ,-€ !
Payments for sexual services from our female guest ( Ladies) ' is not possible. The Ladies work by her self collect himself in cash
If you need cash . Next ATM in P-House Lister Tor . Only 80 m from our Club . Our stuffs like to show the way
Hausordnung / House rules
Hausordnung
Bei uns verkehren bis zu 20 junge sexy Ladies als Gast, die für fast " Alles " offen sind. Sollte es bei einem Date zu sexuellen Handlungen kommen so ist das nur eine Angelegenheit zwischen den einzelnen Partnern Keine von den "Ladies" ( weibliche Gäste , ist Angestellte vom Casanova xl . Nur die Tresenkraft ist Angestellte vom Casanova xl und hat Hausrecht . Alle Gäste, die diese Regelung nicht akzeptieren, dürfen unsren Club nicht betreten oder haben ihn umgehend zu verlassen.
House rules
Some days until 20 young sexy ladies visit our Club as guests . Nearly for "everything" open Should it on a date to come to sexual acts, so that's just a matter between the individual partners . None of the "Ladies" is an employee of Casanova XL. Only the counter force is employees and has domestic authority People who do not accept this mandatory house rules, not allowed to enter our Club
Aktuelle Angebote vom Casanova xl
Drinks: Tief- Preis - Aktion
Die gr. Fl. Wodka 0,7 l mit 1 l Softdrink nur 60,-€ !
Aktions-Tage ! Bitte per Telefon erfragen 0511-897 11 900 oder unter Events schauen
Drinks Sparfuchstag
1 Getränk bezahlen 2. Getränke ist kostenlos ! Nur Gentleman Drinks
Sparfuchs-Tage Bitte per Telefon erfragen 0511-897 11 900 oder unter Events schauen
Unsere/Our Drinks
Von / From Kaffee / Coffee - Champagner
Drinks start with only 4,- €
WAY TO US AND NEXT ATM (Geldautomat)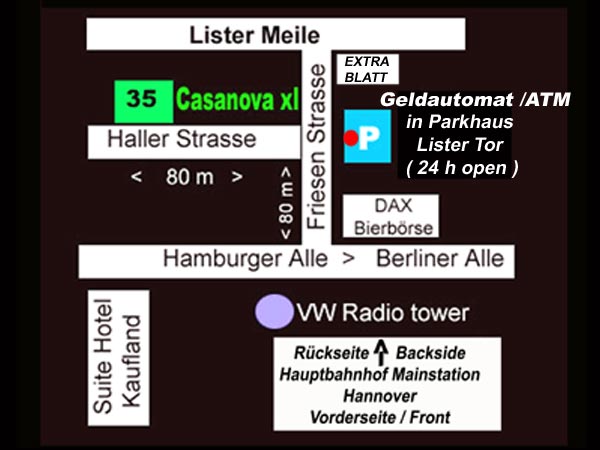 Anfahrt
Hallerstr. 35
30161 Hannover
Haupteingang zum Club Casanova xl
Linke Seite - Hallerstrasse 35.
Direkt in den Bar Raum Salon und Sauna.
English-
Entrace:
Left Side
Hallerstr. 35
Entrance door in the Club Casanova xl
direct to the bar room  Saloon and sauna.
Eingang
Rechte Seite
Hallerstr. 35 A
Anonymer Nebeneingang für Alle,
die nicht gesehen werden wollen.
Direkt in die Pension
in der 1. Etage.
Hier geniessen Sie volle Anonymität.
Der Eingang liegt rechts vom Haupteingang  zum Club.