Drinks, Fun and More im Casanova XL
Auf Wunsch bieten wir für Saunafans auch eine schnuckelige Sauna zum Relaxen
Gebühr einschliessliche aller notwenigen Utensilien, wie Bademantel, Saunalatschen,
Schliessfach ab 15,-€ . Während der grossen Messen ab 20,-€
....Vergiß mal Deinen Alltag...lass Deine Träume wahr werden und gönn Dir mal nur das Beste .....! Ob nur auf ein paar Drinks, netter Gesellschaft mit einer der weiblichen Gäste, die für fast Alles offen sind oder nur mal zum Saunieren!
Upon request we provide for sauna fans also a nice sauna to relax
Charge more inclusive of all essentials utensils, such as a bathrobe, slippers sauna, safe loker
up 15, - € . During the major fairs up 20, - € We only charge fair prices in our Nachtclub Hannover Casanova XL
Schnell info – Fast Information
Zahlung / Payment
Casanova XL akzeptiert Zahlungen mit allen EC und Kreditkarten. Außer Amex. Gäste die nur bar zahlen wollen: der nächste Geldautomat ist im Parkhaus Lister Tor. Nur 80 m von uns.
We accept for payments all EC and credit cards. Except AMEX. Guests like to pay only in cash and has no cash: the next ATM is in P-House Lister Tor. Only 80m from our location. Our staffs can show you the way.
Hausordnung / House rules
Hausordnung
Sollte es bei einem Date zu sexuellen Handlungen kommen so ist das nur eine Angelegenheit zwischen den einzelnen Partnern - Keine von den "Frauen" (weibliche Gäste, ist Angestellte vom Casanova XL. Nur die Tresenkraft ist Angestellte vom Casanova XL und hat Hausrecht. Alle Gäste, die diese Regelung nicht akzeptieren, dürfen unsren Club nicht betreten oder haben ihn umgehend zu verlassen.
House rules
Should it come on a date to sexual acts, so that's a thing between the individual partners. None of the "Women" are employee of Casanova XL. Only the counter force is employee and has domestic authority. People who do not accept this mandatory house rules, not allowed to enter our Club
Aktuelle Angebote vom Casanova XL
Drinks: Tief - Preis - Aktion
Auf Anfrage: z. B. Die gr. Fl. Wodka 0,7 l mit 1 l Softdrink
Aktions-Tage! Bitte per Telefon erfragen 0511-897 11 900 oder unter Events schauen
Drinks: Low - Price - Offer
On request: e.g. One Bottle Wodka 0,7 l with 1 l Softdrink
Offer-Days! Ask on a phone 0511-897 11 900 or under events
Von / From Kaffee / Coffee - Champagner
ab 4,-€ | start with 4,-€
WAY TO US AND NEXT ATM (Geldautomat)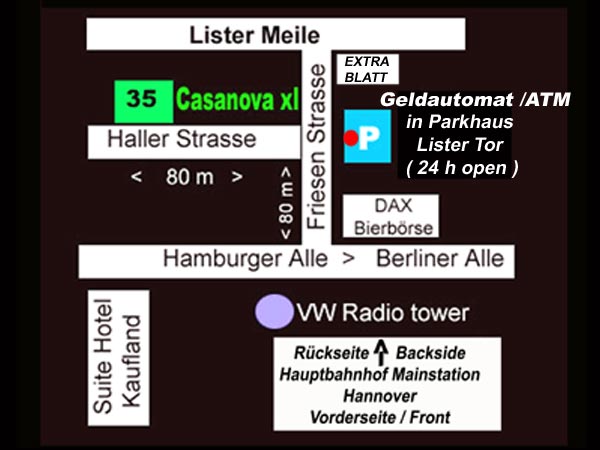 Anfahrt
Nachtclub Hannover Casanova XL
Hallerstr. 35
30161 Hannover
Haupteingang zum Nachtclub Hannover Casanova xl
Linke Seite - Hallerstrasse 35.
Direkt in den Bar Raum Salon und Sauna.
English-
Entrace:
Left Side
Hallerstr. 35
Entrance door in the Nachtclub Hannover Casanova xl
direct to the bar room  Saloon and sauna.
Eingang
Rechte Seite
Hallerstr. 35 A
Anonymer Nebeneingang für Alle,
die nicht gesehen werden wollen.
Direkt in die Pension
in der 1. Etage.
Hier geniessen Sie volle Anonymität.
Der Eingang liegt rechts vom Haupteingang  zum Club.